Chiropractic care for animals is an expanding branch of chiropractic healthcare and educating people and promoting the profession is as important as the practise itself.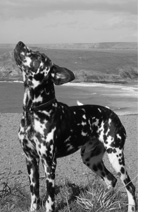 Here at Jointz, we aim to provide you with a multitude of information regarding chiropractic care for animals and if you are unable to find the answers on this site we provide additional links to related websites or click on our contact page and send us an email, Fiona Dod will be happy to answer any of your questions confidentially and as quickly as possible.
At Jointz our mission statement is...
'To provide quality, professional healthcare in a relaxed environment with the aim of reducing pain, restoring biomechanical function, thus optimising and enhancing health', performance and quality of life for your animal'
So, if we can suffer from a bad back why can't our animals?

One of the most stressful events we encounter in our lives is birth….yet how many of us believe that children have, or should have no pain or problems with their bodies?
It is babies and children, which are the ones that should definitely be checked to help prevent such problems and issues arising in later life. Like us, stress on animals begins at birth and to a much greater degree if anyone has ever seen a mare give birth to a foal?
Many times the mare is standing and the foal is birthed and falls from a great height onto a firm surface, and then within a short period is trying to stand, walk and feed!!
We then expose our animals to a HUGE number of stressors…..
stabling, traveling, riding numerous different styles, jumping, collection, extension, saddles, bridles, dentistry, harnesses, shoeing, clipping, etc…
the list goes on, and the same applies for the canine…agility, obedience, clipping, showing, collars and leads, jumping up, etc.
It is therefore inevitable that our pets, show animals or livelihoods may at some point experience injury, whether trauma/overuse induced, or due to conformational defects, whatever the cause is, is it not natural to assist our animals in the healing process as we would ourselves?
Chiropractic does NOT replace traditional veterinary medicine but rather provides an adjunct to it, providing complimentary therapy alongside your traditional veterinary care to improve and optimise the health and function of your animal.
Fully qualified by the International Veterinary Chiropractic Association (IVCA).
Been in practice as an Animal Chiropractor since 2006
Works alongside your Veterinary Practitioner to compliment your animals health.
Member of RAMP
FEI Permitted Equine Therapist
Experienced in treating a wide range of conditions.
Ability to identify potential problems before they occur.
Ongoing after care and support and advice.
I am very happy with the service and really noticed a difference in my ponies
our horses couldn't do without you! And less than a set of shoes – excellent value!
Lewi is my Alsatian. He has been treated by Fiona for about a year.He was on pain killers when he was first seen for arthritis,He hasnt had any since his first treatment with Fiona
I would recommend Fiona to anyone no matter what their discipline – her professionalism is first class and understanding of horses is second to none – and I swear she has the best pair of eyes for spotting anything amiss – and thankfully, usually knows how to remedy it!
Both horse and I move much better thanks to you! Also much appreciated is the help and expert advice you give me. You are a star and as such are highly recommended!
Fiona Dod has been checking our horses backs for the last five years and I am delighted with the service she has provided. With her support Kaiser du Niel, who is a Trotteur Francais, has been transformed from a race horse in Brittany to a successful BE novice eventer.