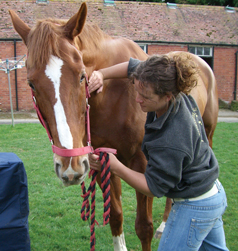 Fiona Dod qualified with a first degree BSc. Hons in Chiropractic after an intense four year undergraduate programme at the Welsh Institute of Chiropractic, University of Glamorgan, Pontypridd, Wales.  She has a special interest in sports chiropractic and in 2005 had her research into sports injuries in runners published in the European Journal of Chiropractic.
Fiona Dod has also completed over 200 hours of additional training for animal chiropractic at the Options for Animals world headquarters based in Wellsville, Kansas, USA. She is a full member of the General Chiropractic Council (GCC), United Chiropractic Association (UCA), and International Veterinary Chiropractic Association (IVCA).
She also has professional indemnity insurance for the treatment of both humans and animals.
Fiona has been riding horses since the age of two and has competed in a wide variety of disciplines. Competing in all teams for the Wilton pony club up until 21yrs old she also began showing working hunter ponies at 11 years old and was chosen as a member of the British working hunter pony team in 1995 when she won the Royal show, the East of England, Nations Cup (Hickstead) and was fourth at Wembly (HOYS). She then went on to start eventing in 1996 and was long listed for the FEI pony event team in 1997.
Since then she has been competed in JRN, JOIT and at Novice and Intermediate level British Eventing (BE).
Fiona not only has a passion for horses but almost all animals! Growing up around horses, cows, dogs, cats, rabbits, guinea pigs, hamsters, and birds has enabled her to have hands on experience with a whole variety of species and characters and her practise extends to any animal with a spine!